Día de Muertos is coming, so it's time to make sugar skulls for our dearly departed! All the supplies are laid out on the ping pong table and ready for you to assemble your own DIY sugar skull kit. There are so many options, so grab a bag and pack it full with everything you need. Keep scrolling for some frequently asked questions.
Step 1: Choose a skull or two to decorate.
We have three sizes: extra large, medium, and tiny.
The extra large ones are what you see in the pictures from previous years. You can fit a lot of detail on them, and they take some significant time.
This year, I also bought a medium mold. These are still 3D, but they are a more manageable size if you don't have a lot of time or are new to this kind of craft.
The tiny ones are really made in a candy mold from the extra sugar. You can still decorate them if you use a small enough piping tip or cut a small enough hole in the icing bag.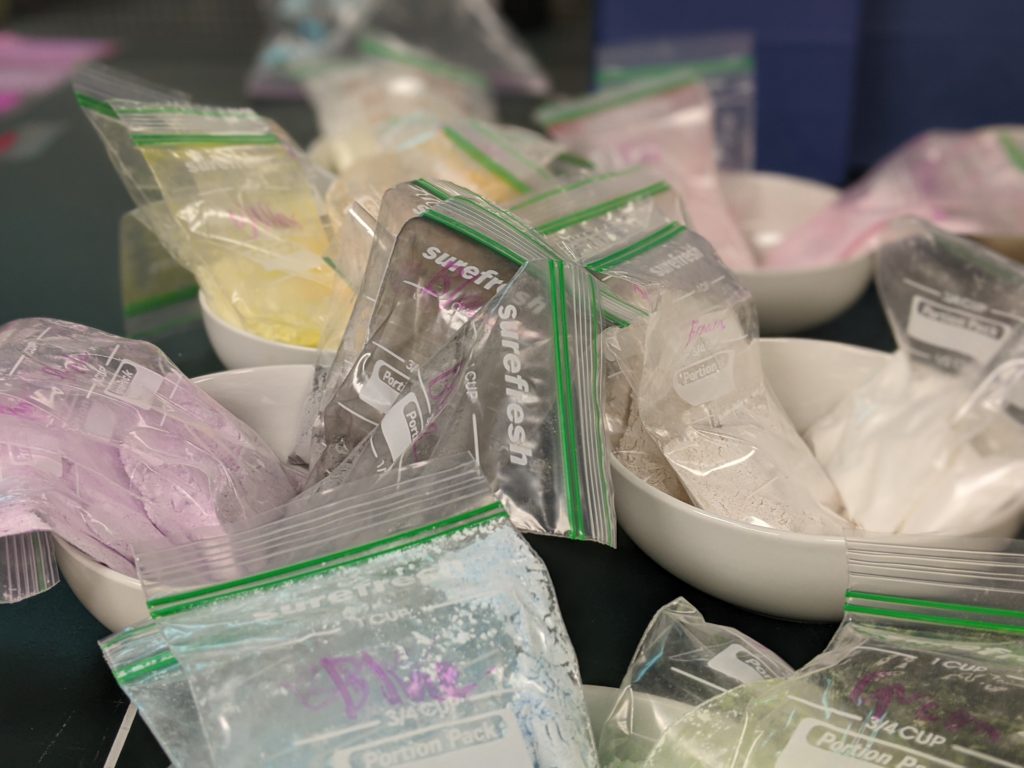 Step 2: Choose some colors of icing.
When we decorate sugar skulls together in the lounge, I make bags and bags of icing in different colors. This year, I've set out pre-mixed bags of royal icing mix in various colors. You just need to add water slowly, mixing in a few drops at a time until it's toothpaste consistency. Then give it some really good mushing, cut off a corner, and pipe! The color will come out much darker and brighter than it looks in the bag. You're welcome to mix your own colors, too! Get another Ziploc bag (we have some in the drawer next to the dishwasher), and pour in some of the icing mix from the colors you want to combine.
If you have an electric mixer and want to make your own royal icing, I've pre-portioned out some meringue powder as well. You can find it in the very back of the icing mixes. Add the 5 Tbsp. of meringue powder to one bag of powdered sugar, stir, and slowly add water (1/4 to 1/2 cup to start) until you reach a thick honey consistency. Beat 2-4 minutes until it's fluffy. Then add gel or paste food coloring and transfer to a piping bag.
Step 3: Choose your decorations.
We have lots and lots of decorations from over the years of decorating sugar skulls. You are welcome to take anything you think you might use. If you don't think you'll need a whole package, I've left a box of snack bags nearby so you can take some and leave the rest. You can also cut apart the sticker jewels and pearls – scissors are in the "miscellaneous" drawer in the kitchen. Most of these supplies are from Dollar Tree or the $1 bins at Target and Michael's, so if you don't see what you're looking for, those are good places to find craft supplies for cheap.
Frequently asked questions